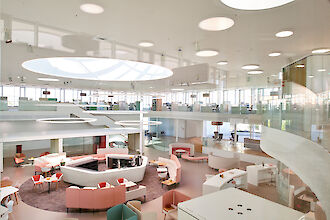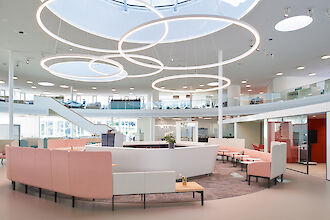 Sedus Smart Office
Dogern, Germany
The new office building of Sedus, a leading full-range supplier of office furnishings and workplace concepts, was opened at its headquarters in Dogern on 1 April 2019. The approximately 100 employees of the departments design and product development, Commercial processing, sales Germany and export, quality and production management as well as the executive now working together in one building.
The "Sedus Smart Office", as the new building is officially called, is not only an open office, that can adapt to the growing workforce, but also a showroom for national and international customers. With the new building, the company wants to show how modern office work can be designed and how interdisciplinary teamwork works.
The lighting concept at that central meeting point is supported by luminaires from Lightnet's Ringo Star series in various diameters.