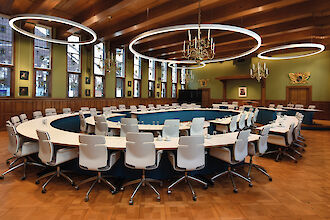 Statenzaal Proviciehuis
Groningen, The Netherlands
The 400-year-old «Statenzaal» in the Provinciehuis in Groningen is one of the oldest and most beautiful town hall auditoria in the Netherlands. The monument-listed room is mainly used for debates, receptions, meetings and elections. However, as the lighting in the hall was outdated and no longer met current lighting requirements, it had to be replaced in 2018.
Due to the monument protection, the renovation of the lighting was not so easy to implement, because architectural changes could not be carried out at every point of the room. Before the renovation, various switching scenarios were worked out to ensure that there was enough light for every purpose in the right place and the exhibited art in the hall was shown to its best advantage.
After the implementation of the design, the Statenzaal now has lighting of the highest quality that can be flexibly controlled and meets the current wishes of the users. The new lighting concept was realised among other things with luminaires from the Ringo Star series from Lightnet.
Project partner
Light planning: buroLicht and Deerns Nederland BV
Photography: Alex Wiersma