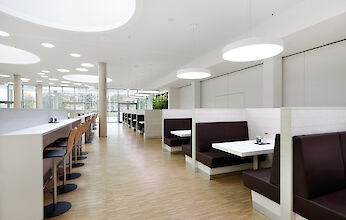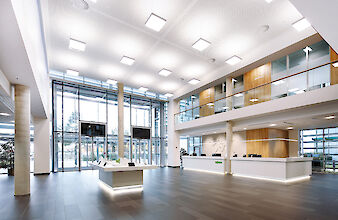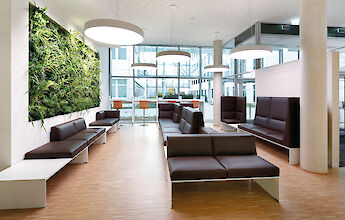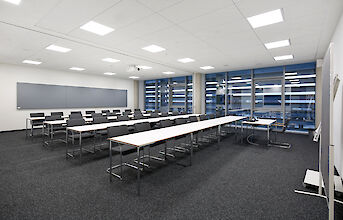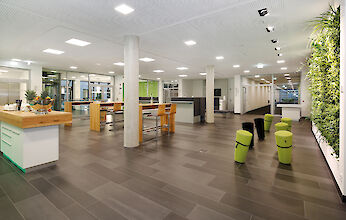 Wago Communication Center
Minden, Germany
Since the company was founded in 1951, the premises of WAGO Kontakttechnik GmbH & Co. KG in Minden has been continuously expanded. With the construction of the new Communication Center in 2016, the company has once again given its headquarters a new face.
The customer and training centre not only offers over 250 modern workstations, but also numerous meeting rooms, which ensure an optimal working atmosphere for small and large groups on three floors. In addition, the Communication Center houses a company restaurant with regional and healthy dishes and a direct connection to a large outdoor area. But the light-flooded building is not only used for meetings, workshops and lectures, it is also perfect for festive events and customer events.
During the construction of the building, great importance was attached - as in all other areas - to sustainability in the lighting. Thus, energy-efficient and low-maintenance LED technology can be found not only in the large reception hall but also in the company restaurant and in the lounge areas. The lighting control systems also take daylight into account and adjust the lighting. The lighting concept for the training and event rooms was implemented among others with luminaires from the Cubic and Caleo series from Lightnet. The lighting concept for the employee restaurant is supported by pendant luminaires from the Basic series, which provide energy-efficient lighting that matches the overall design.
Project partner
Lighting concept: scharkon Lichtkonzepte GmbH
Photography: Regine Rabanus