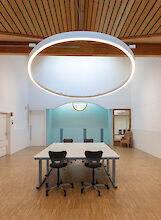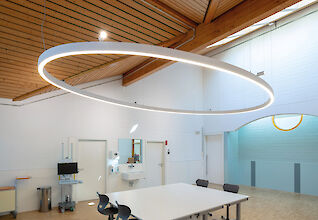 Foyer Pietert, Fondation Kräizbierg
Grevenmacher, Luxembourg
The residence "Foyer Pietert" for people with a physical disability is part of the Fondation Kräizbierg in Dudelange, Luxembourg.
The building dates from the 1980s and is characterised by its many curves, sloping roofs and niches. The aim of the lighting concept was to preserve the special basic character and at the same time to convey the feeling of a cosy home to the residents through clear lines and friendly lighting.
Special demands on the lighting were made especially in the three studios: Direct and indirect light to illuminate the room completely and to support painting and manual work tasks. In addition, dimmable light for dancing and music lessons, indirect light for relaxation and integrated spotlights for illuminating murals, which can be switched separately. The uniquely flexible LED Structure Liquid Line from Lightnet was able to meet all requirements.
To keep the rooms homely for the residents, technical elements such as emergency luminaires were to remain in the background and were integrated into the Lightnet luminaires - not only in the LED structures in the studios, but also in the entrance area and in various bathrooms.