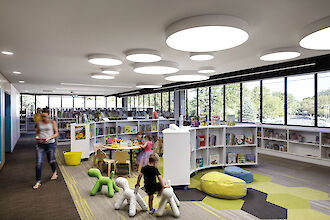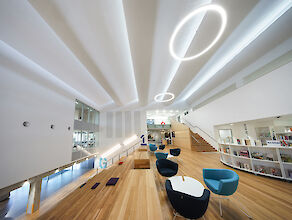 Port of Sale
Sale (Victoria), Australia
The redesigned Cultural Hub in the historic district "Port of Sale" in Sale, Australia, originally designed as a late modern style office space, gives the city a new civic and cultural heart.
After the transformation of the old office area into a modern cultural and civic centre, among other things a regional art gallery, a public library, meeting rooms and event rooms are now located here. The new building complex also houses a visitor information centre as well as a café.
The visual highlight of the entrance area of the Cultural Hub is the Code Zero LED pendant luminaires from Lightnet. With their direct light distribution and glare-free illumination, they create an impressive visual effect in the room. The children's area of the library is lent character and ambience by luminaires from the Matric series, which serve as orientation lights, as well as surface-mounted luminaires from the Basic series.
Light planning: LPA Lighting and Energy Solutions
Photography: John Gollings