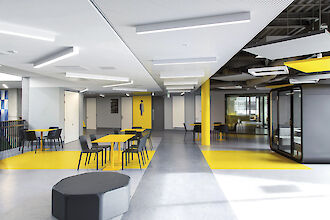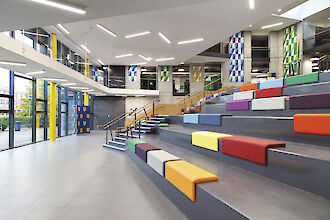 The Hub, Dublin City University
Dublin, Ireland
"The Hub" is the name of Dublin City University's new student centre. It is one of the most ambitious projects in the campus development plan and is located in the heart of the Glasnevin-Drumcondra Campus between the sports complex and the Interfaith Centre.
Dublin City University is the fastest growing university in Ireland with over 50,000 graduates. Until now, however, the university needed a place where students could meet between and after lectures without worrying about noise levels. The more than 120 clubs and groups also lacked space for their meetings.
Since its opening in September 2018, the DCU's new student center provides enough space for 3,500 people. In total, the new student centre covers an area of over 7,000m² – including an amphitheatre, seven meeting rooms, a balcony and terrace areas. It is therefore a perfect place for conferences as well as events and at the same time offers various communication areas where students can exchange ideas with others.

The amphitheatre and the corridors of "The Hub" are illuminated by offset Matric 4000K surface-mounted luminaires from Lightnet. The lighting concept in the communication areas of the new student centre is also supported by Basic Ambient pendant luminaires, which provide energy-efficient lighting that matches the overall design.
Lighting design: DLight