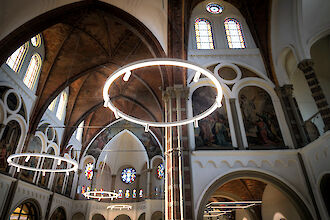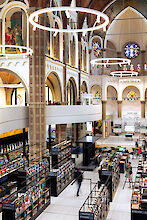 DePetrus kerk
Vught, Netherlands
In the past, prayers, baptisms and funerals took place in the DePetrus kerk which was built in 1884 in Vught. From the beginning of the millennium it was clam in the ageing building. The church threatened to be torn down. Thanks to committed citizens of the Dutch city, the church could be fundamentally renovated and converted into a multifunctional centre with a library, the town museum and shops.
The renovation of the church building began in 2011, the interior renovation in 2017. A new floor was added in the church room, which can be reached by stairs or lifts and is equipped with meeting rooms and learning areas. Since April 2018, the impressive nave of DePetrus houses the City Museum, the library and a reading café.
The special feature of the interior design: reading tables, cupboards, display cases and grandstands are on a rail system, so that the nave can easily be rearranged for major events that take place several times a year.
The lighting design was based on state-of-the-art LED technology. An optical highlight are the white pendant luminaires of the Ringo Star series by Lightnet, which are additionally equipped with movable, dimmable spotlights of the Midpoint series. Thanks to the opal diffuser made of satinised acrylic glass, they ensure perfect, uniform illumination of the room. Like halos, they seem to float in the nave.
Project partner
Lighting design: POP Light B.V.