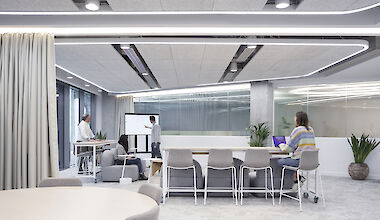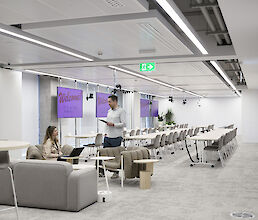 Dropbox Studios
Dublin, Ireland
A space that embraces the current trend towards mobile working: Working closely with IA Interior Architects, Dropbox has transformed its Dublin office into an innovative work environment - Dropbox Studios. Instead of traditional offices, the Dropbox Studios offer a deskless environment specifically designed for collaboration, meetings and social interaction. Conference rooms, event areas and quiet zones encourage sharing and networking between meetings.
Our partner Dlight relied on our bespoke Liquid Line and Matric luminaire ranges to illuminate this unique project. These luminaires offer high flexibility, efficiency and minimal environmental impact. The combination of the Liquid Line G3 pendant luminaire with a microprismatic diffuser provides a pleasantly diffused light that minimises glare and meets office lighting guidelines.
The lighting solution played a crucial role in the design of the Dropbox Studios. For example, comprehensive DALI lighting control was essential to ensure that the lighting is dimmed when the area is not in use. This not only saves energy and money, but also creates an optimal working environment.
The project won the Fit Out Awards 2022 - Project of the Year Medium Office and Interior Design Magazine's Small Tech Office - Interior Design Category.
Project partner
Lighting design: Dlight
Photos: Donal Murphy