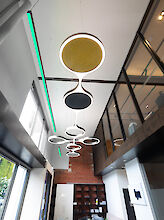 LPA Energy Group Global Head Office
Melbourne, Australia
In 2022, an exciting new chapter in the history of our partner LPA Energy Group began. After working from home for two years during the global pandemic, the LPA team was able to celebrate its move to the newly renovated, state-of-the-art headquarters in Melbourne, Australia.
The LPA team designed and managed this project from concept to completion. Lighting with the best efficiency was chosen to save energy - including a wide portfolio of Lightnet luminaires.
For example, our Ringo Star Cluster creates an eye-catching feature at the entrance to the office. In the kitchen, our Beam Me Up Jr. creates a homely and cosy ambience, while our Code Zero and Matric Square set visual accents in the conference rooms and promote the efficiency and health of employees through optimal lighting.
Many thanks to LPA for the great cooperation and all the best in the newly designed office!

Project partner
Lighting Design: LPA Lighting & Energy Solutions
Architect: BG Architecture
Builders: A & R Building Constructions
Electrician: A – Phase Electrics
Photography: Andrew Wuttke