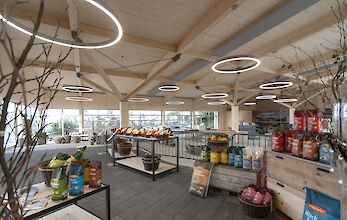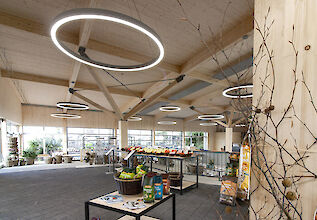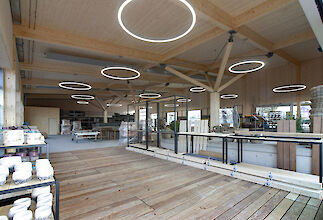 Haller Tree Nursery
Oftringen, Switzerland
Since 1925, the third generation of the Haller family has been producing avenue trees, ornamental shrubs and conifers on 16 hectares at its nursery in Oftringen, Switzerland. Climbing plants, bamboo, bog plants, fruit trees and selected rose varieties are also part of the range.
The new sales pavilion connects the existing buildings and leads customers to the new sales greenhouse.
Our Ringo Star P3 pendant luminaires, as a room-defining style element, create pleasant ambient lighting and blend harmoniously into the very natural ambience created by wood-paneled ceilings. Many thanks to our partner Mabalux for the great cooperation!
Project partner
Lighting design and photos: Mabalux AG