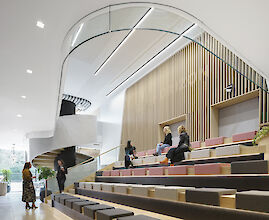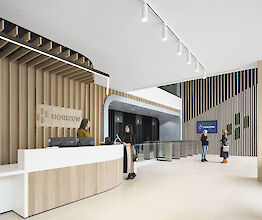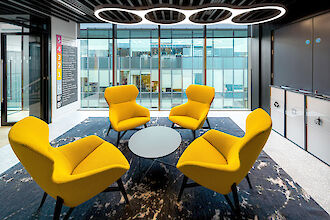 Horizon Therapeutics
Dublin, Ireland
Global biotechnology company Horizon Therapeutic has worked with RKD Architects to create a new working environment in the heart of Dublin city centre, close to St Stephen's Green.
After two years in a home office, Horizon was keen to create a space where staff could feel comfortable and network with each other. To achieve this, open office areas, a coffee dock, quiet zones, a library, a gym and various individual offices were set up.
Horizon had a clear vision that focused on the needs of employees and sustainability. Flexible and cooperative working areas were to promote free exchange between employees and create space for team spirit. In the quiet zones, our Ringo Star Cluster luminaires create a visual highlight, while the entrance area is illuminated by our Midpoint spotlights. In the meeting rooms and common areas, our Matric luminaires provide timeless design and optimal lighting.
Our partner Dlight placed particular emphasis on ecological sustainability, according to which we produce our Lightnet luminaires. As a result, the project was able to stay well below the LEED parameters and received the coveted LEED Gold certification.
This impressive achievement was recognised with an award at the Fit Out Awards 2022.
Project partner
Lighting consultant: Dlight
Photographer: Donal Murphy
Video: Brightlight