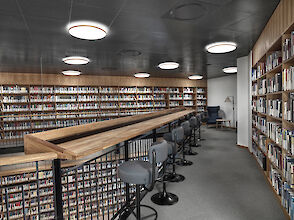 University Library
Aalborg, Denmark
Study in style - the reading room of the library at Aalborg University, Denmark, creates a calm and relaxed atmosphere with materials such as wood, black metal and concrete.
Our Basic Superflat in size Ø600 illuminates the entire room and harmonises with the ceiling materials. Its narrow edge provides a view of the luminaire and sets modern accents in the room.
For the interior of the Aalborg University Library, the luminaire was chosen in a copper shade that matches the wood of the interior. To play with the different ceiling variations, our Basic Superflat was installed in the direct and indirect light version with a microprismatic shade that minimises glare. This creates a very beautiful effect on the glossy black ceilings.
Project partner
Many thanks to our partner Luminex for the good cooperation!