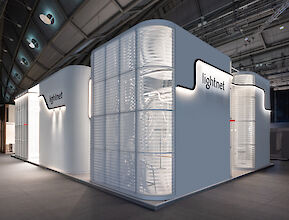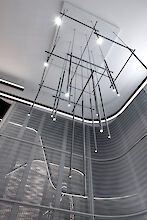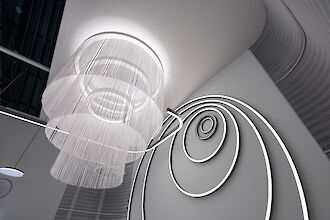 Light and Building
Frankfurt, Germany
Guided by the light lines of our Liquid Line series, many visitors reached our stand at this year's special edition of Light+Building, which turned out to be a complete success despite previous scepticism. After a break of almost four years due to the pandemic, it was finally time for the presentation of our product world in the context of our new corporate design. More than 20 years of existence demanded that we take the design of our brand to a new level and express who we are today.
The exhibition stand, made of a special 3D expanded metal, created unity and transparency at the same time and created plays of light depending on the viewing angle. In the centre, the Liquid Line tree shone as a symbol of Lightnet's unique flexibility and ecological sustainability.
Thematically structured, we presented several new products and intelligent further developments of existing product series. We cordially invite you to take a 3D tour below, where you will find direct links to the products on display.
Whether during the day with enlightening technical discussions or in the evening with a relaxed beer: our stand was always well attended and it was a pleasure for all of us to finally see so many business partners in person again after this long time. We would like to thank all visitors and are already looking forward to the next Light+Building!
Project partner
Photography: Holger Meckbach