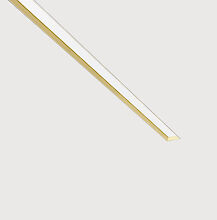 Matric Déco M9 | Recessed Frameless
Modular lines of light
Housing:
Extruded Aluminum. Recessed mounted LED luminaire for frameless installation in plasterboard ceilings. Direct only light distribution. Bespoke lengths possible. Fully enclosed and damp rated.
Optical System:
Direct light using precision lenses with louver for wide uniform symmetrical light distribution with high glare limitation (UGR<19) especially for workplaces. Louver available in various color finishes. Microprismatic screen made of special acrylic glass with optimized glare reduction especially for workplaces. Satin opal diffuser for general lighting with maximum transmittance and homogeneous lighting. Recessed screen with optimized glare reduction and decorative lighting impact.
Surface Finish:
Surface natural anodized white coated. All around decorative trim available in various finishes and combinations.
Control:
Integral electronic driver dimmable 0-10V. Minimum dimming level 1%. Field replaceable. On request: DALI, DMX, Lutron, Casambi.
LED:
Available color temperatures: 2200K, 2700K, 3000K, 3500K, 4000K, 6500K, or Tunable White. All color temperatures available in CRI>80 or CRI>90. Optionally FULL SPECTRUM-LEDS for highest Fidelity Levels (Tm30). Tolerance within a 3-step MacAdam ellipse. Up to 110lm/W efficacy. Choice of different lumen output levels: Low, Medium, or High Power. Custom lumen output upon request. Lifetime L90/50000h.
Certification & Warranty:
Pending ETL. 5 Years Warranty.

Snow White

Satin Silver

Jet Black

Satin Gold

Anodic Champagne

Satin Copper

Snow White | Snow White

Snow White | Satin Silver

Snow White | Anodic Champagne

Snow White | Jet Black

Snow White | Satin Gold

Snow White | Satin Copper
Configuration and data download
| Downloads | Length L/Diameter D (in) | Light characteristics | Optical system | Surface finish | Color temperature | Control | Current/Power | Reflector Color Inside | Installation |
| --- | --- | --- | --- | --- | --- | --- | --- | --- | --- |
| | L=xxxx'' | Direct light distribution | Opal diffuser | Snow White | 3500K | Dimmable (0-10V) | Medium-Power | Reflector: Jet Black | Installation housing for installation with shadow gap incl |
| | L=80,9'' | Direct light distribution | Opal diffuser | Snow White | 3000K | Dimmable (0-10V) | Medium-Power | Reflector: Jet Black | Installation brackets (set) incl |
| | L=xxxx'' | Direct light distribution | Microprismatic screen | Snow White | 3000K | Switchable | Low-Power | Reflector: Snow White | Installation brackets (set) incl |
| | L=80,9'' | Direct light distribution | Microprismatic screen | Snow White | 4000K | Switchable | High-Power | Reflector: Snow White | Installation housing for installation with shadow gap incl |
| | L=xxxx'' | Direct light distribution | Opal diffuser | Snow White | 3500K | Dimmable (0-10V) | Medium-Power | Reflector: Satin Gold | Installation housing for installation with shadow gap incl |
| | L=58'' | Direct light distribution | Lens Louver | Snow White | 3500K | Dimmable (0-10V) | High-Power | Reflector: Satin Gold | Installation housing for installation with shadow gap incl |
| | L=80,9'' | Direct light distribution | Opal diffuser | Snow White | 3000K | Dimmable (0-10V) | Medium-Power | Reflector: Satin Gold | Installation brackets (set) incl |
| | L=xxxx'' | Direct light distribution | Microprismatic screen | Snow White | 3000K | Switchable | Low-Power | Reflector: Jet Black | Installation brackets (set) incl |
| | L=80,9'' | Direct light distribution | Microprismatic screen | Snow White | 4000K | Switchable | High-Power | Reflector: Jet Black | Installation housing for installation with shadow gap incl |
| | L=xxxx'' | Direct light distribution | Opal diffuser | Snow White | 3500K | Switchable | High-Power | Reflector: Snow White | Installation housing for installation with shadow gap incl |