Basic Déco XXL G4/P4 | Suspended
Housing:
Extruded Aluminum. LED pendant luminaire with overall height of 3.875". Direct-indirect or direct-only light distribution. Fully enclosed and damp rated.
Optical System:
Recessed microprismatic screen with optimized glare reduction especially for workplaces (up to max. Ø1200). Opal diffuser made of acrylic glass.
Surface Finish:
Outer housing and Decorative reflector ring available in various finishes and combinations, e.g. white, silver, graphite, black, gold or copper coated. Further surface options see Lightnet-Surface-Collection. RAL or PANTONE of your choice.
Control:
Integral electronic driver dimmable 0-10V. Minimum dimming level 1%. Field replaceable. On request: DALI, DMX, Lutron, Casambi.
LED:
Available color temperatures: 2200K, 2700K, 3000K, 3500K, 4000K, 6500K, or Tunable White. All color temperatures available in CRI>80 or CRI>90. Optionally FULL SPECTRUM-LEDS for highest Fidelity Levels (Tm30). Tolerance within a 3-step MacAdam ellipse. Up to 110lm/W efficacy. Choice of different lumen output levels: Low or Medium Power. Custom lumen output upon request. Lifetime L85/50000h.
Installation:
Height-adjustable central cord suspension (max. Ø1500), parallel cord suspension with transparent power supply cable, or rod suspension.
Certification & Warranty:
cETLus.
5 Years Warranty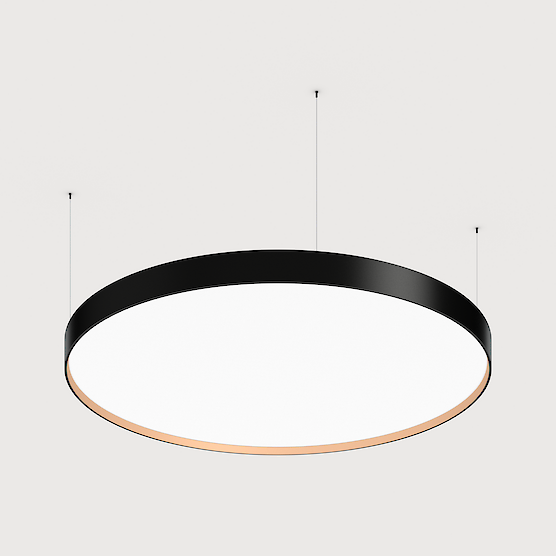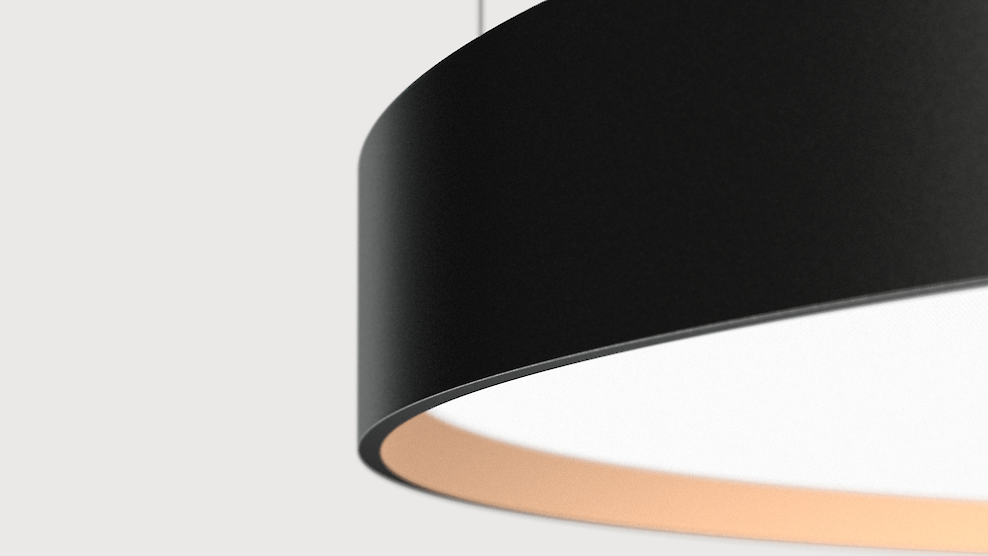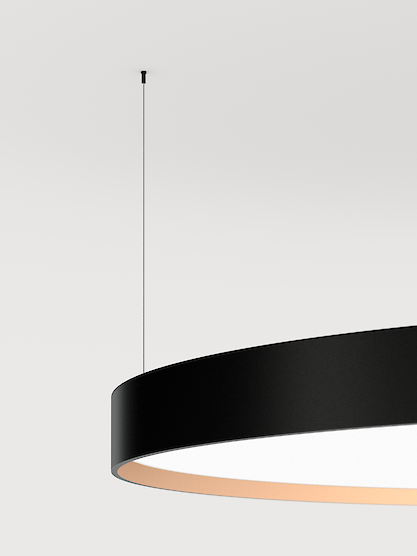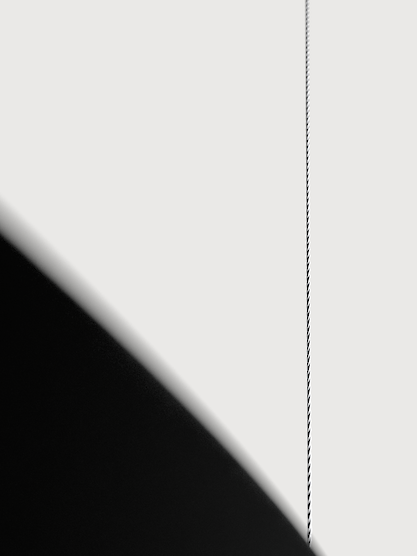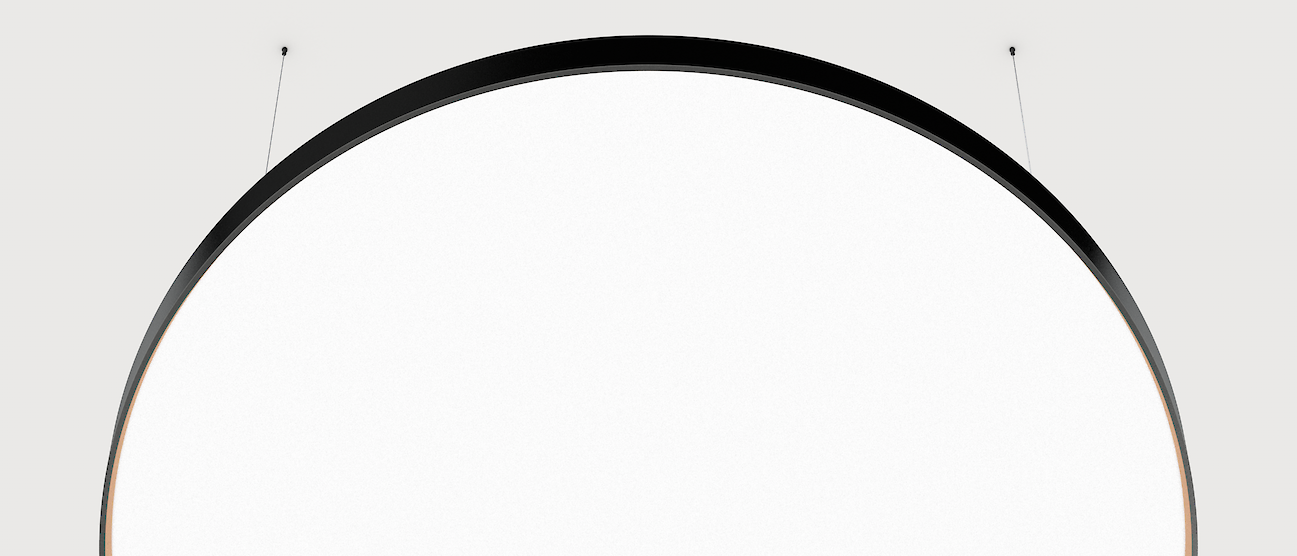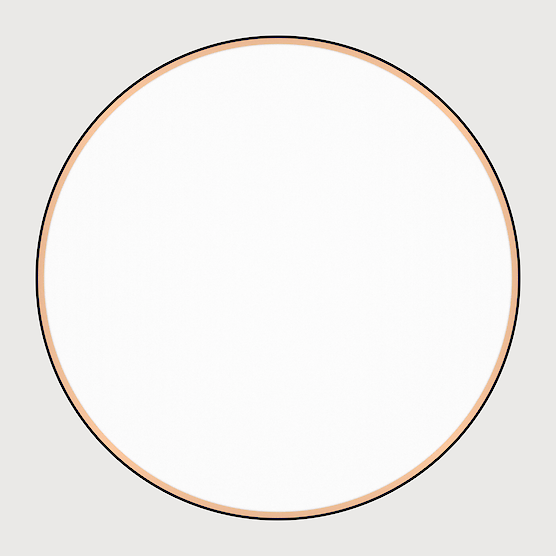 Snow White | Snow White

Radiant Silver | Radiant Silver

Urban Graphite | Urban Graphite

Jet Black | Jet Black

Anodic Champagne | Anodic Champagne

Satin Copper | Satin Copper
Snow White | Satin Copper

Snow White | Satin Gold

Snow White | Jet Black

Anodic Champagne | Jet Black

Jet Black | Satin Gold

Jet Black | Snow White
Configuration and data download
| Downloads | Article code | Productname | Length L/Diameter D (in) | Optical system | Surface finish | Color temperature | Control | Suspension | Reflector Color Inside | Luminous Flux | Power consumption |
| --- | --- | --- | --- | --- | --- | --- | --- | --- | --- | --- | --- |
| | 1BG4OBD-827E-D600-UG | Basic-G4 | D=23,6'' | Opal diffuser | Jet Black | 2700K | Dimmable (0-10V) | Central cord susp. (Set) | Reflector: Satin Gold | 3721lm | 25W |
| | 1BG4OBD-827E-D600-UB | Basic-G4 | D=23,6'' | Opal diffuser | Jet Black | 2700K | Dimmable (0-10V) | Central cord susp. (Set) | Reflector: Jet Black | 3721lm | 25W |
| | 1BG4OSD-827E-D600-US | Basic-G4 | D=23,6'' | Opal diffuser | Radiant Silver | 2700K | Dimmable (0-10V) | Central cord susp. (Set) | Reflector: Radiant Silver | 3721lm | 25W |
| | 1BG4OWD-827E-D600-UG | Basic-G4 | D=23,6'' | Opal diffuser | Snow White | 2700K | Dimmable (0-10V) | Central cord susp. (Set) | Reflector: Satin Gold | 3721lm | 25W |
| | 1BG4OWD-827E-D600-UB | Basic-G4 | D=23,6'' | Opal diffuser | Snow White | 2700K | Dimmable (0-10V) | Central cord susp. (Set) | Reflector: Jet Black | 3721lm | 25W |
| | 1BG4OWD-827E-D600-UW | Basic-G4 | D=23,6'' | Opal diffuser | Snow White | 2700K | Dimmable (0-10V) | Central cord susp. (Set) | Reflector: Snow White | 3721lm | 25W |
| | 1BG4OBE-827E-D600-UG | Basic-G4 | D=23,6'' | Opal diffuser | Jet Black | 2700K | Switchable | Central cord susp. (Set) | Reflector: Satin Gold | 3721lm | 25W |
| | 1BG4OBD-840E-D600-KG | Basic-G4 | D=23,6'' | Opal diffuser | Jet Black | 4000K | Dimmable (0-10V) | Parallel cord susp (Set) | Reflector: Satin Gold | 3980lm | 25W |
| | 1BG4OBE-827E-D600-UB | Basic-G4 | D=23,6'' | Opal diffuser | Jet Black | 2700K | Switchable | Central cord susp. (Set) | Reflector: Jet Black | 3721lm | 25W |
| | 1BG4OSE-827E-D600-US | Basic-G4 | D=23,6'' | Opal diffuser | Radiant Silver | 2700K | Switchable | Central cord susp. (Set) | Reflector: Radiant Silver | 3721lm | 25W |