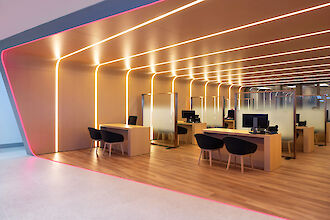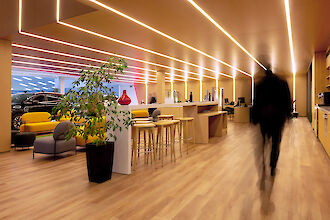 Kia Motors Showroom
Botany, New Zealand
Exceptional lighting results with our Liquid Line recessed system luminaire set the scene for the Kia Motors showroom in Roturoa, New Zealand.
A unique curved structure with specific lighting requirements for profile luminaires that run seamlessly from wall to ceiling was desired and was flawlessly realised in collaboration with our partner Novii using our flexible and customised Liquid Line. The use of these state-of-the-art lighting solutions emphasises the modern ambience of the Kia Motors showroom.
The showroom concept combines the best of modern technology, sales and customer service to enhance the customer's dealership experience. Upon arrival, visitors are greeted by a concierge. As they tour the dealership, visitors can interact with service staff and digital displays that allow them to get a close-up look at the car they want, with all the features they like.
Project partner
Many thanks to our partners:
Lighting design: Novii
Photos: Mark Scowen, Darren Menorath