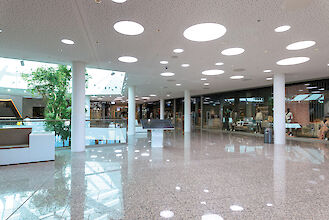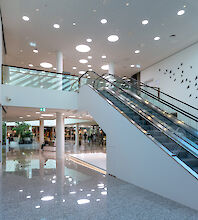 City Concorde
Bertrange, Luxembourg
Since 1974, the City Concorde shopping centre in Bertrange, 5 km from the capital city of Luxembourg, has offered a wide range of opportunities for shopping, sports activities and culinary experiences. This is ensured by more than 100 shops in the heart of the building, including supermarkets, fashion shops, hairdressing and beauty salons, a car cleaning service, several bars and restaurants, a fitness centre as well as indoor and outdoor relaxation rooms. The panoramic roof, the terraces and the playground for the little ones offer space for relaxation.
Since its foundation, the shopping centre has been extended several times. A connecting building between the two main entrances has been created with a spacious, roofed outdoor area, equipped with round recessed luminaires in various sizes from the Lightnet Basic series.
Inside, the lighting concept is continued, resulting in a uniform ceiling appearance. In order to give customers and staff the feeling of a situation similar to daylight, the lighting designers have chosen Tunable White luminaires from Lightnet. This provides bright, cool light in the morning and cosy, warm light in the evening, inviting customers to linger in a cosy atmosphere in one of the many restaurants.

The general lighting concept in the inside of the new building is discreet and is enlivened by special lighting and design elements so that the atrium can be seen in the foreground as a connecting architectural element. The main design element of the lighting of the new wing are circles in various diameters, consisting of recessed luminaires from Lightnet's Basic series.