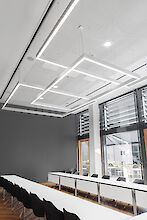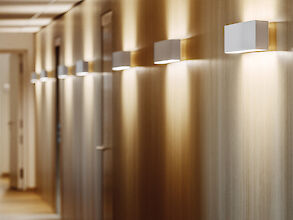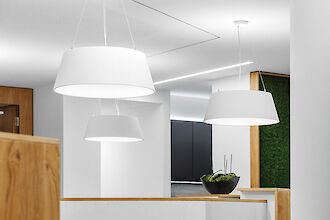 Volksbank Bielefeld-Gütersloh
Bielefeld, Germany
A mixture of regional design objects and small things that are perfect gifts, plus a Hawaiian restaurant. What sounds like a trendy concept store somewhere in a Berlin scene district is right in the heart of Bielefeld, at Kesselbrink, in the new headquarters of the Volksbank Bielefeld-Gütersloh.
After two and a half years of renovation, the Volksbank Bielefeld-Gütersloh with its 150 employees has moved back into its old office building. Only the reinforced concrete skeleton of the old building, which dates back to the 1960s, was left standing during the renovation. Now the renovated building presents itself to visitors with bright, open rooms, lots of glass and a lighting concept harmoniously matched to the architecture.
The combination of a bank branch with a restaurant and an exhibition area for regional design objects is unique until now. In the new foyer, hardly anything resembles a bank headquarters. In the front area, the "Green Bowl Poke & Coffee" restaurant serves Hawaiian trend dishes. In the spacious lobby there is a foosball table and many seats. The customer service counter, on the other hand, is almost inconspicuously located in the back of the foyer.
All around the presentation wall in and below the gallery of the foyer, rail-mounted spotlights from Lightnet's Midpoint product series were installed. The black luminaire units integrate inconspicuously into the room concept and can be precisely aligned in order to illuminate the exhibits appropriately for changing exhibitions.
The multifunctional room on the second floor, which is designed for conferences, meetings and lectures for up to 120 guests, is illuminated by profiles from the Matric series. Track-mounted spotlights from the Midpoint product range also serve as accent lighting in the anteroom and catering area. The lighting concept in the real estate department is supported by white pendant luminaires from the Beam Me Up series, which complement the recessed ceiling profiles in the room.
Planning: Hauer Architects
Lighting concept: scharkon Lichtkonzepte GmbH
Photographer: Patrick Pollmeier, Bielefeld