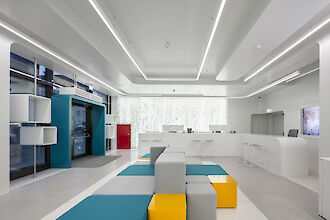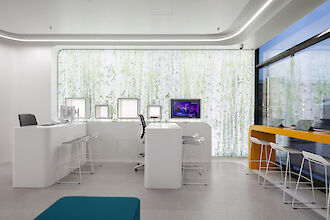 Customer Centre Stadtwerke
Neubrandenburg, Germany
The customer centre of Stadtwerke Neubrandenburg in the corporate design of neu.sw impresses with its clear and minimalist design. Centrally located in the Marie-Carré on the market square in Neubrandenburg, competent contact persons advise on the supply of electricity, gas, heat and water in and around Neubrandenburg in the room measuring a good 100 square metres. The counsellors' workplaces are arranged along the side walls: An L-shaped counter and two desks for staff and customers. The waiting area in the middle of the room was designed with modular seating furniture: Cuboids of different sizes form a seating landscape that can be flexibly grouped.
Strong cyan, warm yellow, radiant white - the colour scheme of the logo of the "municipal multi-service specialist" is reflected in the interior design. The formal language of the interior design - rounded corners give the room and furniture a dynamic aesthetic - also finds its origin in the logo of the municipal utility with its two cubes.
The spatial finish of the harmonious concept is formed by the finely drawn light bands of our Liquid Line G3 LED pendant luminaire system, which blend perfectly into the architecture and provide pleasant light.
Photos: Andreas Muhs
Planning: Petzi + Petzi Architekten