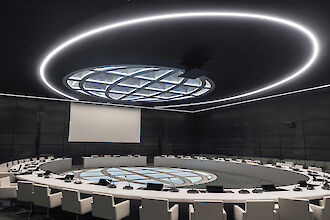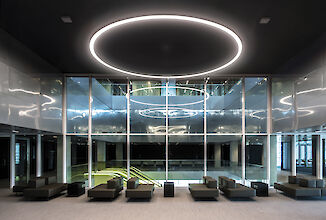 Government building Rijnstraat 8
Den Haag, Netherlands
Rijnstraat 8, the government building located directly opposite of Den Haags Central Station, was a leading example of sustainability in office architecture after its completion in 1992. 25 years later, the building no longer offered the flexibility and openness required by a contemporary office building. Rijnstraat 8 was therefore completely renovated in 2017.
In the past, Rijnstraat 8 accommodated the Ministry of Housing. Since the renovation in July 2017, the ministries for foreign affairs, infrastructure and environmental protection have been based here, as well as the headquarters and the contact point of the Dutch Immigration and Naturalisation Service.
Ellen van Loon from OMA (Office for Metropolitan Architecture), who redesigned the entire building, designed an office complex that allows flexible working methods with less office space and, just as in 1992, is all about sustainability. The lighting concept is also sustainable. For example, LED lighting was used throughout the entire building. The lobby, for example, is illuminated by several Ringo Star LED suspended luminaires with a diameter of 5m from Lightnet.
One of the most important conference rooms of the new Ministry of Foreign Affairs is the "Grote zaal". It is one of the landmarks of the new building and its design is reminiscent of the former Van Kleffens Hall in the old Foreign Ministry. The visual highlight of the hall is the ceiling. Its design picks up on the elements of the floor. The globe on the ceiling corresponds in appearance and size to that on the floor, and the line of light surrounding the globe forms the counterpart of the conference table.
The approximately 38m long, oval shaped light line consists of a Liquid Line Structure in RAL 7047, which is suspended from the ceiling and whose LED boards allow up to 3000lm/m. The luminaire body of the "Liquid Line" consists of an extruded aluminium profile which has already been pre-bent at the factory - this means that individual and even more difficult shapes, such as the oval shape of the light object in the "Grote zaal", can be easily realised.
Light planning: Maas & Hagoort