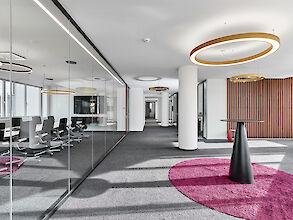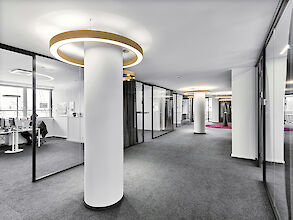 PSI CRO
Planegg, Germany
Gold, warm brown and soft grey tones dominate the new office area of the internationally active Clinical Research company PSI CRO in Planegg. In addition to an open and bright office concept and lots of space for employees, the new German headquarters also offers a complex lighting concept.
Germany is an important market for clinical studies and the Munich region is a leading centre for biotechnology. These were the two main arguments for the Swiss PSI CRO AG to open an office in Germany in 2010. However, due to the continuously increasing number of employees in recent years, the existing capacities of the old office complex were exhausted. In Planegg the company found a new home: on five floors with a total area of around 3,300 square metres there is now room for further growth.
In addition to gold, warm brown and subtle grey tones dominate the colours in the new building. On the ground floor there are seminar rooms and the conference room area. A modern office landscape with a uniform layout is located on the second floor and offers various room situations that allow both individuality and communicative interaction. Representative reception areas are also provided on both floors. Transparent walls ensure acoustically protected working and yet allow the various departments to be visually connected. In addition, movable elements ensure spatial flexibility.
A central element for the overall effect of the building is the lighting. The lighting concept not only takes into account daylight conditions, current room use and the individual needs of the people in the room: the aim was also to give the building a soul. In the office building, pendant luminaires from the Ringo Star series in Satin Gold and surface-mounted luminaires from the Basic series by Lightnet were installed.
Project partner
Architect: Ricardo Alves
Photography: Becker Lacour