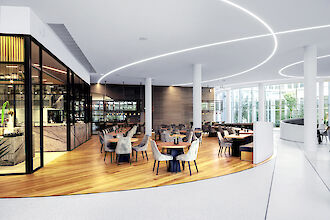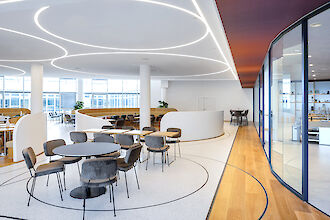 JJA
Gonesse, France
Founded in 1976, JJA develops a comprehensive range of products in the field of interior design for homes and flats.
The new headquarters in the south of Gonesse (Greater Paris) was designed according to the "campus" concept, which provides for high-quality working environments that encourage collaboration and focus on the feel-good factor for the 300 employees.
The offices and the 15,000 m2 showroom are distributed around the inner garden on a total area of 42,800 m2.
Our Liquid Line Recessed F3 ensures optimal lighting, connects the different areas with each other and creates a cosy atmosphere in the quiet zones.
The main building features a double-height glass façade topped by a monumental canopy that gives the entrance the prestige of a corporate headquarters. The building is structured around a central garden, which is the green lung of the project and is visible from all the interior spaces.
To minimise the impact of the development, a green roof with inclined triangular planes extends over the rest of the complex and continues the surrounding landscape.
Project partner
Planning: L35 Architectes, Optelma France
Photography: Guillaume Guérin