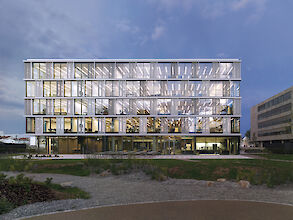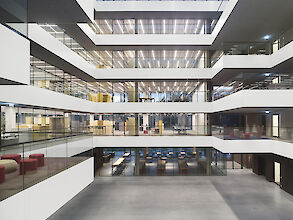 AEB Corporate Headquarters
Stuttgart, Germany
An open office concept, rooms for creative work and a herb garden - AEB's corporate headquarters in Stuttgart has provided enough space for around 500 employees and a sophisticated lighting concept since its opening in June 2017.
Until 2017, the employees of AEB, the Stuttgart-based software company for logistics and foreign trade, were spread over a total of five buildings. The resulting situation was not optimal for the company's operations and the employees' sense of togetherness. For this reason, the new building on the former Hansa area should not only reunite the company in one building, but also create a place that is an attraction for both customers and new employees.
AEB's open corporate culture is reflected architecturally in the interior design of the company headquarters. All rooms are open and designed with lots of glass to create maximum transparency. The spacious atrium as the centre of the building creates brightness on all five floors. In addition, light design elements allow views into and through the multifunctional rooms. Direct and indirect light on all floors further emphasises the character of openness.
All light sources for the basic lighting of the atrium, the surrounding corridor zones and the offices are fully integrated into the architecture and do not appear prominently. Linear Matric pendant luminaires from Lightnet integrated flush between acoustic panels provide uniform illumination of the open-space office areas. They provide glare-free light that is optimally distributed throughout the room. The louvre spacing of the lighting profiles is chosen to allow a multifunctional open-plan office space. Rhythm changes in the luminaire arrangement also create dynamic lighting in the room.
Architect: Prof. Stefan Hofmann, LICHTWERKE GmbH
Photographer: Roland Halbe