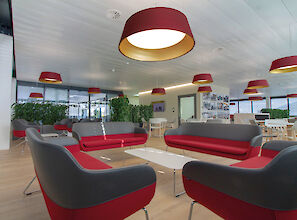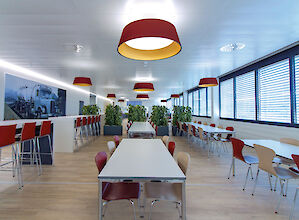 Cafeteria Bertschi
Dürrenäsch, Switzerland
Bright rooms and cheerful colour accents - in the new canteen of the logistics service provider Bertschi in Dürrenäsch/Switzerland, employees can enjoy their lunch break in a relaxed atmosphere.
In 2018, the headquarters had to be extended by two more floors, as the company's capacity was exhausted as a result of its constant expansion. One of the new floors houses the new canteen, which is supplemented by a terrace.
The focal point of the new canteen are Beam Me Up luminaires from Lightnet, which come in the colour Black Cherry in various diameters. In combination with the seating furniture, they create a harmonious ambience and also create a pleasant light in the various zones of the canteen.