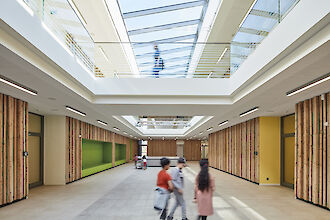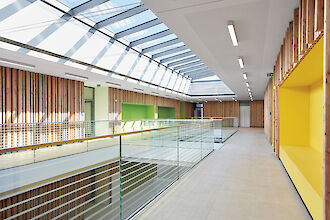 Primary school Rahewinkel
Hamburg, Germany
On the outskirts of the Mümmelmannsberg, in the district Billstedt in Hamburg, the Rahewinkel primary school is located. With 31 classrooms, the two-storey new building provides a creative learning environment for around 500 children from 27 nations. Architect Alexander Maul of pbr Planungsbüro Rohling AG designed a building that is completely integrated into the existing park-like, green environment through form and material – wood and glass characterise the facades.
The architectural concept is designed to promote communication between the children. Just like the heart of the school: the light-flooded, open, two-storey atrium. It is intended as a meeting place and break hall, and also offers sufficient space for events. Here the school children can sit together, spend the break together or withdraw for reading. The community and classrooms as well as the library and a playroom are designed cross-shaped around the atrium, which contributes to the simple orientation of the children. In addition to the modern furnishings of the school building, the lighting was also chosen with a view to modern design and excellent lighting characteristics. Because in school architecture in particular, the right lighting concept is the key. The right amount of light promotes the pupils' sense of well-being and thus their concentration and can guide them to the appropriate areas.
More than 130 Matric-A5 surface-mounted luminaires in warm white (3000K) support the lighting concept in the atrium as linear luminaires. They provide glare-free light that is optimally distributed throughout the room and ensures homogeneous basic illumination.
Project participants: LADIGES GmbH & Co. KG, Herr Frank Schwiecker, SBH - Schulbau Hamburg
Photos: Ulrich Hoppe
Project partner
Project participants: LADIGES GmbH & Co. KG, Mr Frank Schwiecker, SBH - Schulbau Hamburg
Photography: Ulrich Hoppe